Runnin' Late! v2.1 is here!
---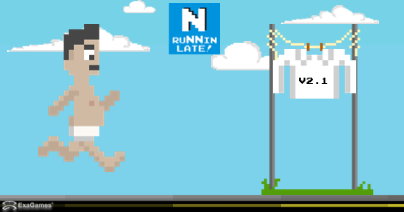 We keep working to bring you a better game. This is a small update with art improvements and several bug fixes.
This new version is already available on the App Store,Google Play and itch.
Better compatibility
Runnin' Late! is compatible with millions of different devices, you can even play it online from your mobile, no need to download.
That's why we're working hard to make your game experience the same, no matter which device you use to play. From old Android devices to an iPhone X to your PC.
Now, the game speed is always the same, regardless of your device limitations.
We've also improved the way the game adapts itself to different screen sizes and resolutions. Images now look better and the game timer is much more visible in all devices.
Bug fixes
First of all, we fixed a bug that provoked the player to get stuck in houses when jumping to them. You'll no longer have this issue.
We've also fixed some details when showing ads on mobiles when you run out of time and want to keep playing; now, once you close the ad, the game starts in pause so as not to take you by surprise.
Finally, we keep making it increasingly lighter, so that your download is as fast as possible.
What are you waiting for? Play now!